Return to Headlines
August 10, 2020 Letter to Parents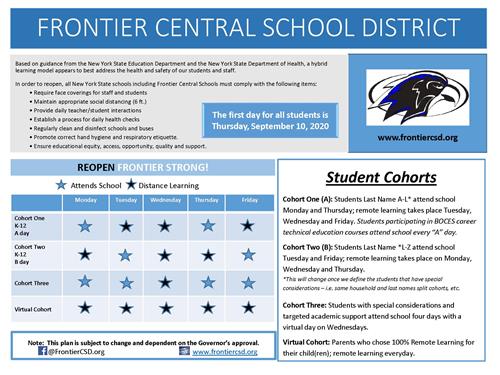 August 10, 2020
We are a little over 4 weeks until the start of the school year. After Governor Cuomo's announcement that we could reopen, we have been busy taking care of questions that come up.
First we will start the school year in a mostly hybrid model as outlined in the provided draft document. As of this morning, we have over 2500 student responses for the reopening survey that closes Thursday. The current results indicate:
Approximately 18% of students/parents have expressed interest in a fully virtual option. That group is the virtual cohort.

Cohort 1 and cohort 2, for grades K-8, will follow an AB model with Wednesday a virtual day for everyone. The cohorts will be balanced once we have the final survey results and work to adjust based on individual needs.

Cohort 3 includes students with special considerations and targeted academic support attend school every day

Finally cohort 4 will have learning everyday for students with special considerations. Spacing, due to social distancing, will determine how many students are in cohort 4.
On Friday, Governor Cuomo announced new requirements for districts to meet. A specific remote learning plan from our Curriculum and Instruction Office will be posted by Friday. Districts also must have plans for testing and contact tracing. While most districts will rely solely on the Erie County Department of Health (ECDOH), Frontier's partnership with Mobile Primary Care will allow us to provide telemedicine, expedited testing, and monitoring to work in conjunction with ECDOH contact tracing. Finally, we will hold three digital community forums on:
Links will be posted on our website and social media prior to each forum. There will also be a new email to send forum related questions. Please use Frontierforum@frontiercsd.org for any questions we can answer during the forum. We are getting ready to post a frequently asked questions (FAQ) document to also assist with questions that you may have.
In the end, each family must make the choice that works best for their situation. While we are able to offer a number of options, we don't have the funding and capacity to offer every option. No matter the challenges that arise, we will come through this stronger, #FalconStrong.
Yours in Blue,
Dr. Hughes