Return to Headlines
Frontier Graduate Helps Others Tackle Addiction
The following article appeared in the Hamburg Sun on October 18, 2019.
Frontier Graduate Helps Others Tackle Addiction
By Dave Lukow
SUN CORRESPONDENT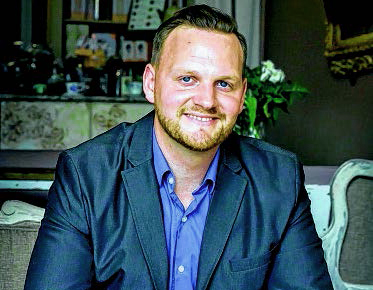 Brian Costello planned to pursue his love for art, but his drive to help people in need was too strong to ignore.
The Frontier graduate went from an arts major at Daemen College to pursuing a psychology degree at Buffalo State College.
Costello has worked in addiction treatment on an outpatient and inpatient basis since 2012 and earned a master's degree from the University at Buffalo, before recently joining private practice therapy group CORE Mental Health Counseling in Buffalo.
Therapists there specialize in anxiety, depression, trauma, addiction-related issues, relationship issues, stress-management, work-life balance and some personal coaching. They also offer stress management, mindfulness and wellness talks.
"I like to do stuff that's creative, but I started losing my interest," he said. "Honestly, I knew I wanted to work with people with addictions."
He said it's been a rewarding but "exhausting" career path. He's seen up close the impact of addiction, the opioid crisis and the "tragic loss of loved ones."
"I have an ability to connect with people, to meet them where they're at, to normalize [what they're going through]," said Costello, a resident of the Village of Hamburg, who's a Licensed Master Social Worker (LMSW) and Credentialed Alcoholism and Substance Abuse Counselor (CASAC).
And Costello isn't just helping in the fight against addiction. He said he's fighting preconceived notions about addiction, as well.
The former hockey and lacrosse athlete at Frontier said he's traveled a long road getting to where he is professionally, but there are still obstacles that remain in this line of work.
"Mental health is so stigmatized, so it's not talked about that much," Costello said. "People think they're the only one dealing with it. I let people know this is common, it happens a lot. Nothing is wrong with them. Life happens."
Despite growing up a quiet child, his mother, Jeanne Costello, said the profession has been an ideal fit for her son.
"He was always the quiet person in the house but was always willing to help anyone," she said. "This job pulled him out of his comfort zone."
Costello has witnessed the curves life can throw. He's lost several friends to the opioid crisis that's plaguing the nation. And while the number of deaths attributed to opioid addiction may be turning in the right direction, especially in Erie County, he said there's no denying the drugs still have a powerful pull on way too many people.
"I don't know about the statistics, but there's been a personal impact," Costello said. "There have been guys I played hockey with, guys I played lacrosse with suffering with addiction."
According to Costello, age is relevant when discussing the tendency to get hooked, and increased access makes the situation worse.
"The teenage brain is a vulnerable brain," Costello said. "Now, pills are available. It's not a big jump from pills to heroin."
Once young people get addicted, they're often thrown into a downward spiral, according to Costello. Many aspects of their existence, including how they're viewed by society, change because of dependency.
"Addiction changes a person," he said. "The people they're around changes dramatically. Because of the stigma, kids, as opposed to getting support, get into trouble."
Located on Delaware Avenue, CORE is owned – and was founded by – Nicole Mosey. Costello joined the practice in July.
"Clinics are very demanding," he said. "With the private practice, I'm trying to emphasize a wellness approach. My ultimate goal is to help people avoid the crisis of addiction."
As he was working full-time in outpatient care, Costello said he started in 2015 going to the University at Buffalo on a part-time basis and graduated with a master's degree in social work last year. His graduate studies gave him the opportunity to complete two internships in staff training and wellness and as a medical social worker at Children's Hospital.
Also, in 2016, Costello helped launch the first-ever grant funded Recovery Community Center in Buffalo and helped support a smaller recovery center in Hamburg. Both programs offered free services for anyone who identified as being in recovery and the family members of individuals dealing with addiction.
In 2017, Costello took a state position in an acute addiction treatment center for inpatient rehabilitation in Buffalo where he worked as an addictions counselor.
"He's a great person. We are very proud of him," Jeanne Costello, who has lived in Hamburg for 36 years, said. "I've seen Brian grow year after year in his job. He's willing to help anybody. He's a very kind and patient person."