Return to Headlines
Frontier Alumnus Returns to Area as UB Assistant Athletic Director
The following article appeared in the Hamburg Sun on August 23, 2019
Stang excited by opportunity to return home
New assistant AD will be providing academic support to UB student-athletes
By Peter Martin
SUN CORRESPONDENT
Hamburg native Aaron Stang has been named the new Assistant Athletic Director of Academic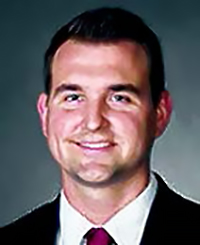 Affairs for the University at Buffalo.
For the 2006 graduate of Frontier High School, moving back to Buffalo was something he wasn't sure he'd ever be able to accomplish.
"I've had a goal to become a director of Academic Athletic Support but the options are limited," Stang said. "I knew that the University at Buffalo was probably the only option I would have to ever come back here so I wasn't counting on it."
In his new role, Stang will be in charge of academic support for UB's football team, as well as overseeing a team of five who run academic support for UB's other teams.
Athletic academic support is a service provided to athletes at many universities. The staff of these programs help the athletes with everything they need to achieve their academic goals, from scheduling tutors and study sessions to helping schedule classes, and even teaching them about appropriate attire for job interviews.
"Most athletes spend more than half their days on their sport, between practice and film and travel, and they spend the other half on classes and studying," Stang said. "We are providing the support for them to reach their academic goals."
This promotion is a capstone on an impressive career for someone who is just 31 years old. Stang started in 2011 as an Academic Athletic support intern at Florida Atlantic University after graduating from SUNY Cortland with a master's degree in Sport Management.
He got his first full-time gig as a counselor at FAU the following year, but he took a quantum leap forward in September 2018 when he became the Assistant Director of Football Academics at Wisconsin.
In that role, he ran the academic support for one of the premier athletic teams in the United States and the high visibility of that role made him a candidate for UB. But he credits the people around him throughout his life for helping him get where he is.
"I've had really good people, just from growing up," Stang said. "My dad owned his own construction company and instilled a really good work ethic in me. My parents are very compassionate people and in this field you have to have a strong sense of compassion to help people out."
Once he got into the field, he met more people who helped him.
"I've had really good people who have showed me the way and taught me what they knew," Stang said. "I've worked really hard and listened and things have just fallen into place pretty nicely. I can't really explain it."
He was a three-sport athlete at Frontier who played basketball in college, and it was those experiences that drew him to this career and keep him interested and engaged.
"It's the impact that sports had on me," Stang said. "The transferable skills that you learn playing sports that you don't even realize you are learning. That's what drew me to this career, because I can look back and see the impact that sports had on my life."
For Stang, seeing the change that can be made on young people over their four years in college is the most rewarding part of the job.
"My favorite part is being able to see student-athletes who have just focused on nothing but their sport become a different person by the time they are ready to graduate," he said. "They're ready for whatever's next. Coming in as freshmen they weren't thinking about school or their career. But when they're ready to leave, they have a resume, they have a shirt and tie, they're ready to go."