Return to Headlines
Frontier Graduate Performed with Buffalo Youth Orchestra
The following article appeared in the Hamburg Sun on May 3, 2019.
Frontier Graduate Performed with Buffalo Youth Orchestra
Atlanta Symphony Orchestra oboist was guest soloist as part of anniversary concert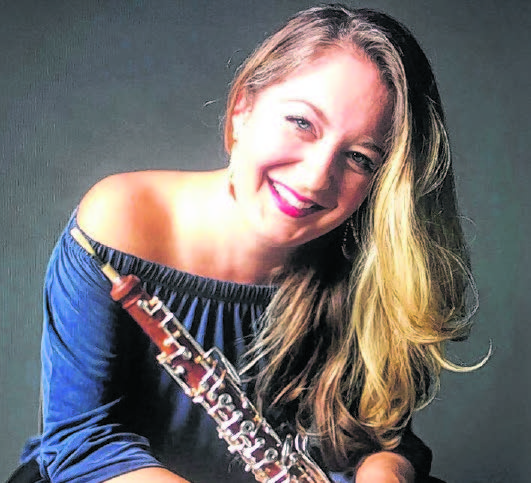 By Kristi Runyan
SUN CORRESPONDENT
The Greater Buffalo Youth Orchestra was joined by a special guest alumnus at their concert Sunday as the group celebrates its 60th anniversary.
The orchestra, which is comprised of talented young musicians from 20 different school districts in Western New York, including Orchard Park, West Seneca, Hamburg and Frontier, featured Elizabeth Koch Tiscione, principal oboist with the Atlanta Symphony Orchestra, as guest soloist at Sunday's performance.
Tiscione grew up in Hamburg and attended Frontier Central Schools, where she began playing the oboe at 9. Her parents, who still live in the area, as well as some of her former teachers, attended the concert.
The Greater Buffalo Youth Orchestra's concert featuring Tiscione was held at 3 p.m. at Lippes Concert Hall at the University at Buffalo.
The students will perform under the guidance of their music director, Ansgarius Ayluward.
"I feel like it's a full circle moment for me," Tiscione said by phone.
Tiscione can recall the moment when she knew what path she wanted to take in life. In middle school, she was accepted after an audition into an orchestra based in New York City that was run by the Disney Channel. She was flown to New York and spent two weeks there practicing and then performed at a concert in Lincoln Center.
"That was the moment where I was like, 'Oh my gosh, I want to do this for the rest of my life,'" she said. "And the GBYO lit the fire in me for orchestral music. I had a very clear vision of what I wanted to do from middle school and on. I was going to go 100 percent for that goal without really questioning it."
Tiscione said her vision was fueled with a lot of support from her teachers and family. At Sunday's concert, she performed Mozart's Oboe Concerto in C, accompanied by the GBYO, a group that helped grow her dreams.
From the Frontier School District, she continued her studies at the Interlochen Arts Academy under Daniel Stolper and studied privately with Mark DuBois at SUNY Fredonia. She went on to study with Richard Woodhams at the Curtis Institute of Music in Philadelphia for three years, as she won the position in the Atlanta Symphony during her third year of college.
And Tiscione is looking forward to the show, because she said orchestras comprised of young people tend to have a different energy and level of passion.
"There's always this energy these orchestras have," Tiscione said. "Everyone on stage is playing things maybe for the first time, plus with the strong emotions of being a teenager. Professionals sometimes lose that."
The Greater Buffalo Youth Orchestra offers young musicians a chance to experience the discipline and rewards of preparing and performing advanced repertoires.
The GBYO currently includes several students from school districts in the southtowns, including Andrew Taylor, Anna Hennesey and Lily Wagner of Hamburg; Lauren Koeppel, Leah Cocco, Madelyn Stoklosa and Noah Webster of Frontier; Emily Sperynak of West Seneca East; and Max Culp, Elizabeth
Mayer and Jack Fischer of Orchard Park.
Janice Jones, the executive director of the Greater Buffalo Youth Orchestra, said she hopes Tiscione's return to perform alongside the GBYO will inspire the students.
"I hope it shows them all this hard work pays off in the long run," Jones said.
Tiscione said she hopes the GBYO students choose to keep music in their lives.
"I hope it gives these kids inspiration to keep on working toward their dream if that's what they want, and even if it's not, to keep music in their lives," she said.
Tickets for GBYO performances can be purchase online at www.gbyo.net.