Return to Headlines
Frontier Alumni is Batman, Lawyer and Now Author
The following article appeared in the Hamburg Sun on March 22, 2019.
Buffalo's versatile Batman writes first book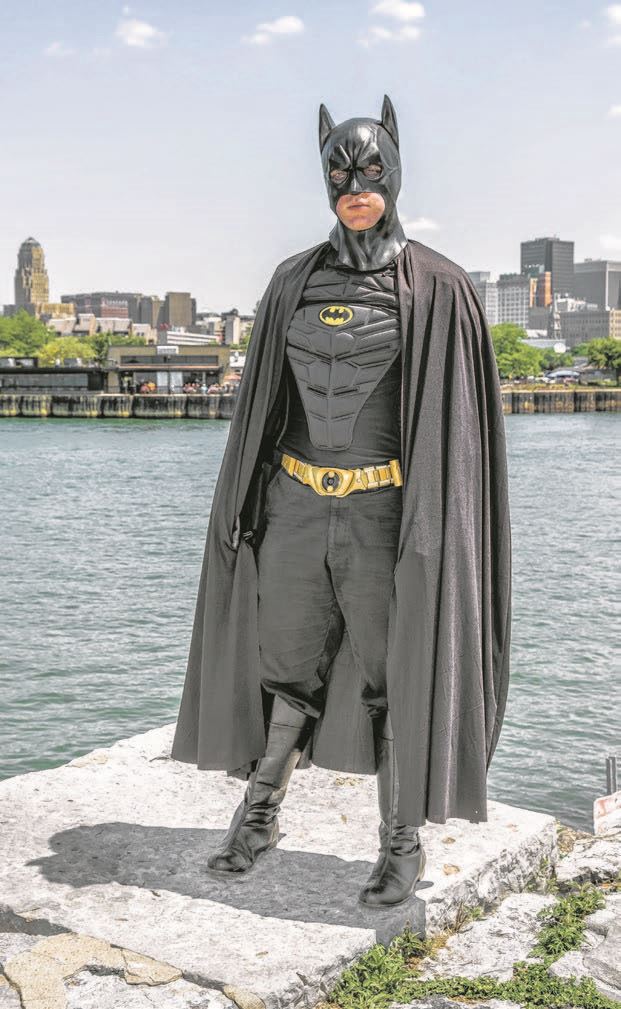 Lorenz portrays superhero as well as working as lawyer and attaining fifth-degree blackbelt
By Dave Lukow
SUN CORRESPONDENT
Will Lorenz portrays a superhero for charity. A look at his accomplishments - and schedule - suggests it may be more than an act.
A Hamburg native, Lorenz works as an attorney in Amherst, has practiced martial arts for more than 20 years, and has made dozens of appearances dressed as Batman to raise money for various causes.
The graduate of Frontier High School, where he played football, recently wrote a book, "The Ballad of Buffalo's Best Batman," which was released on Amazon in January.
A portion of every book sold is donated to Mercy Flight.
Lorenz is slated to sign copies of the book later this month at the Queen City Bookstore on Main Street in Buffalo. The book was published by NFB Publishing, a Buffalo-based firm.
"It's my first book," said Lorenz, who did his undergraduate work at Canisius College and then graduated from the University at Buffalo Law School. "To have a book signing scheduled is a very gratifying feeling."
The first signing takes place Saturday (March 23) while the second is happening Wednesday (March 27). Both sessions are part of a week-long Batman tribute at Queen City Bookstore. The tribute celebrates the 80th anniversary of Batman in comics.
Lorenz will also be signing books on March 31 at the Buffalo Marriott Niagara on Millersport
Highway in Amherst.
The owner of a fifth-degree blackbelt, Lorenz made his first appearance as Batman in 2011 at the Elma Karate School where he
practices.
"I was performing a karate demonstration," he said. "It was fun for the students."
Things got more serious in 2014 when Lorenz wore the Batman costume to a charity event in Lockport. It was there he learned of a competition that would bring him his title.
"I heard about a contest to become Buffalo's Best Batman," Lorenz said. "And I won."
Among happenings chronicled in the book are appearances at the Buffalo Bisons first Superhero Night in 2015 and at a world martial arts convention in Athens, Greece, in 2018.
Each of the book's chapters start with a quote from one of the several Batman films that have been made over the years, including "The Lego Batman Movie." To date, Lorenz has personally sold about 30 copies to associates and others.
"Although I don't have the figures from Amazon," Lorenz said. "The response has been overwhelming."
Jonathan Ertel, a Lancaster resident and close friend of Lorenz, said he is looking forward to reading the book. Given Lorenz's ability to conquer numerous tasks, Ertel, who's practiced karate for 34 years, isn't surprised he found time to write about his life behind the mask.
"Will picks a mission and charges the hill on that," he said. "He has the ability to keep life in balance."
As an attorney with the Amherst-based law firm HoganWillig since 2013, Lorenz focuses on civil litigation, criminal law and real estate. He's also tackled civil rights and contractual matters. He recently lobbied in Albany for the Child Victims Act.
The Child Victims Act was signed into law Feb. 14 by Gov. Andrew Cuomo. Under the legislation, victims of child sexual abuse have new opportunities to seek justice. Those claiming to be victimized can now pursue civil actions against abusers and the institutions that enabled them until the age of 55. Additionally, New York's statute of limitations regarding the bringing of criminal charges has been extended until victims turn 28. Before the enactment, victims had until they were 23 to bring felony cases.
"I wanted to go into a field where I could help people," Lorenz said.